Translift are a
Narrow Aisle Forklift and Articulated Forklift Specialist.
Pioneering space saving Forklifts since 1964, Translift has gone on to reshape the Materials Handling market through the offering of versatile Bendi Articulated Forklifts and Very Narrow Aisle (VNA) Forklift Trucks, as well as space-saving solutions through their Warehouse Design specialists.
Translift is our longest serving client, having teamed up with TLH Marketing in our first year of business – we're obviously doing something right!
We aim to build a long lasting and successful relationship with all our clients. If you're looking for an all in one marketing partner why not get in touch?
We've worked on flyers, adverts, exhibitions, branded merch
and much more.
Professional photography can help customers
visualise your product

and see its benefits.
A great product can sometimes be hard to visualise for a client, and although good content sets the scene, nothing compares to showing your product visually.
We took photos of their space saving Bendi forklift in action, showing how narrow warehouse racking can be when you use a Bendi. Users can read how narrow an aisle can be, however, seeing is believing don't you think?
We've taken photos for lots of our clients, interested? Begin the most joyful marketing experience you've ever had by contacting us today.
Lead generation, sales and news updates through
targeted email marketing campaigns.
We worked with Translift to get their Bendi Forklift stock and Warehouse Design/space-saving solutions into the right inboxes.
Our email marketing campaigns have played a big part in generating sales, creating actionable leads and raising awareness of the innovative Bendi brand amongst the industry – including their vast product range.
Are you interested in email marketing but don't know a thing about it? Let's talk! Contact us now!
Let's Talk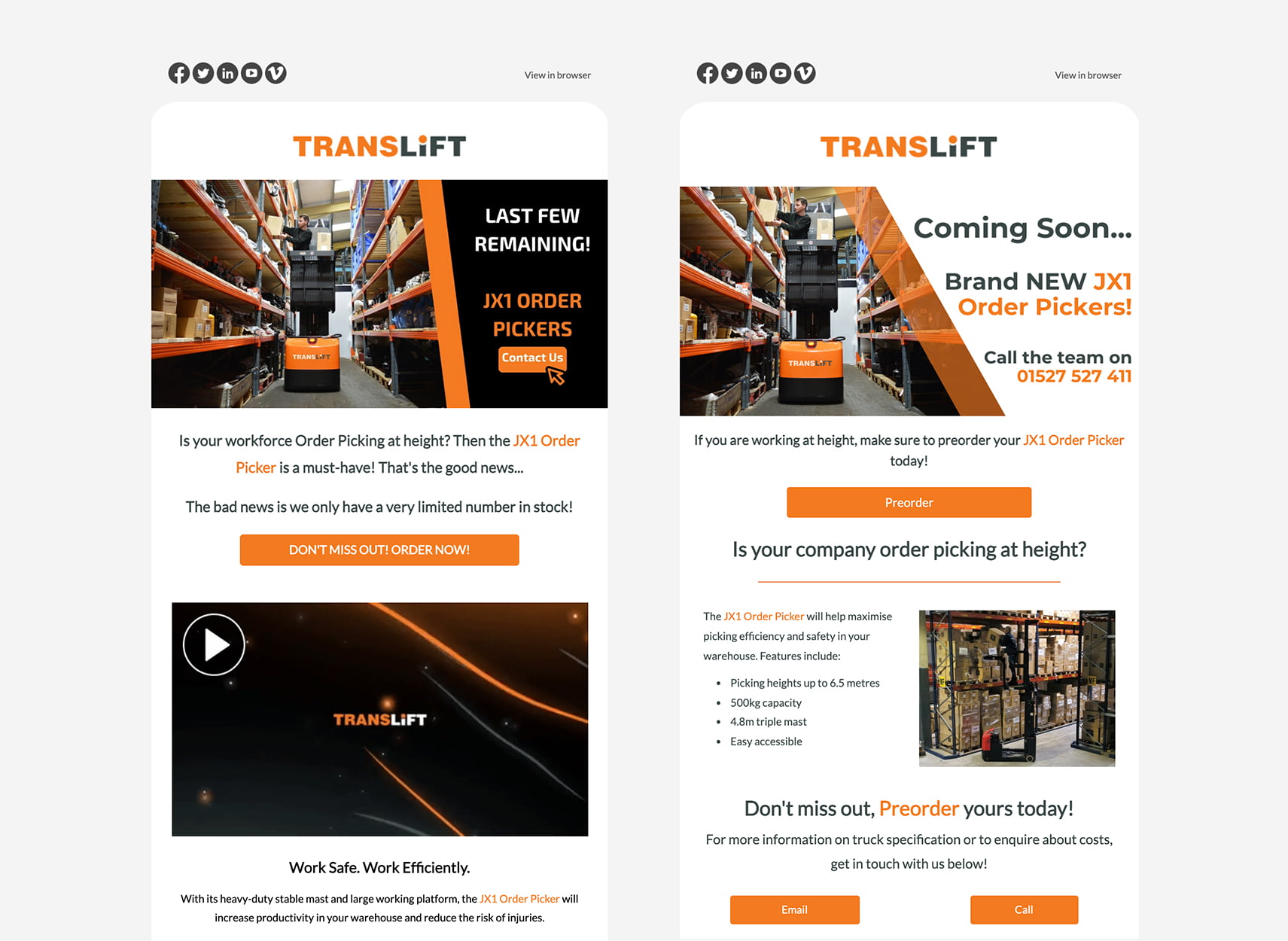 Full service marketing agency with a reputation for
getting results.
If you have an upcoming project and you're looking for a long or short-term marketing partner to work with, contact us and see how we can help you today.
We don't bite, begin the most joyful marketing experience you've ever had by contacting us today.
Are you interested in how we could help your business? Pick up the phone, drop us an email or scribble us a letter, however you want to do it, we can't wait to talk with you!
Alternatively, you can fill out the form here and we'll give you a call back regarding your enquiry – talk soon!
Download eBrochure