Digital Marketing with TLH Marketing.
Digital Marketing helps you build your presence online, increase sales and
grow your business.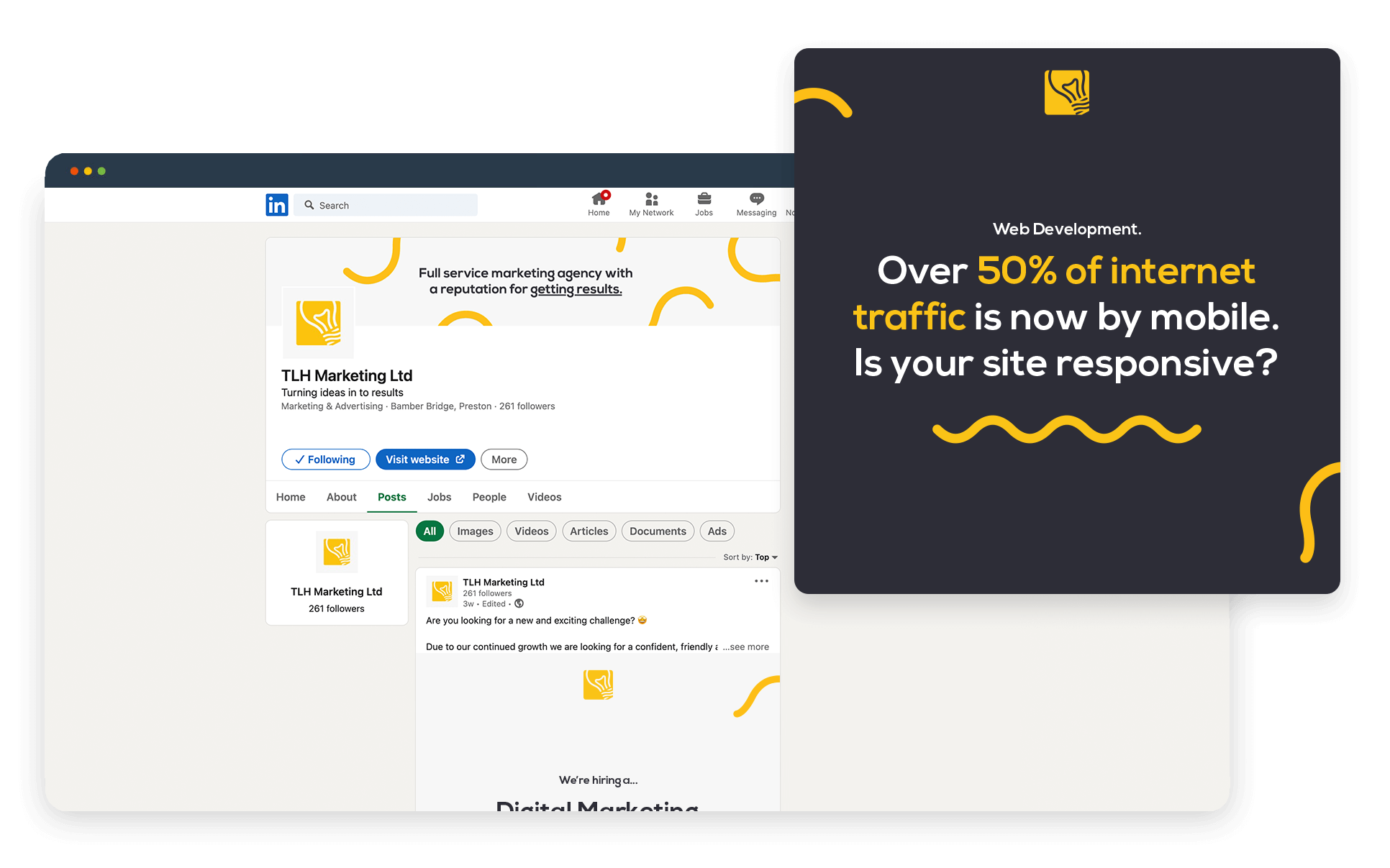 Get more leads, attract more visitors and
boost your digital presence through Digital Marketing.
The cutting-edge digital marketing platforms and online techniques that we use provide various places and paths to attract people to your website.
We assist you in delivering a clear representation of who your business is and what your marketing messages are, using the right tactics for you. In truth, the most successful campaigns use a mix of most, if not all, of the different methods.
Let's Talk
Unleash the power of Email Marketing and

increase your sales opportunities.
Don't sit around and wait to be found on Google, let your competitors do that! We love email marketing campaigns because they are a great tool to promote your product or services and provide a direct route to your potential customers.
We don't just stop with sending out emails though, we assist in identifying sales leads and provide insights into what your customers are doing once they've received your email.
Let's Talk
Search Engine Optimisation (SEO).
Each year over 2 trillion searches are conducted online.
Are you being found?
Search Engine Optimisation helps potential customers find your business. Our knowledge of SEO best practice combined with the use of innovative industry leading tools will improve your organic rankings and increase your online presence.
We focus on not only your business, but your competitors and customers to ensure your website is being seen by the right people; especially those who are actively searching for your products and services.
We
care

about your goals.
TLH Marketing will discuss what you want to achieve from your SEO campaign, highlighting optimum keywords you want to rank for and which website pages you want to rank.
We will follow a list of priority actions to ensure you are getting the most out of the time we spend on SEO for your website. We will also produce and provide detailed reports of progress that can be supplied every month and/or quarter.
Is your website optimised and mobile responsive? If not, this could severely hinder your chances for ranking higher on search engines like Google. Learn more about our web design services.
Web Design
Let's Talk
Give your company
personality

using Social Media.
Engage and interact with your target audience. The average social media usage per day is 142 minutes…so why wouldn't you use it for your business?
Social media is a powerful tool which offers businesses a unique way to engage and interact with the market and your audience. As a digital marketing platform, social media allows you to communicate your brand message, developing an identity for your business and promoting your products or services online.
If you're interested in how we could help you, why not get in touch?
Let's Talk
Our most recent digital marketing work,

take a look at what we can do.
Some of Our
Lovely Clients.
We haven't scared them off just yet.
Are you interested in how we could help your business? Pick up the phone, drop us an email or scribble us a letter, however you want to do it, we can't wait to talk with you!
Alternatively, you can fill out the form here and we'll give you a call back regarding your enquiry – talk soon!
Download eBrochure